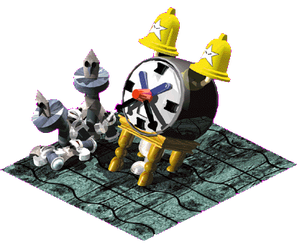 "It's 1:00 time to play." —Count Down, Super Mario RPG: Legend of the Seven Stars.
Count Down is a large clock-like being and a member of the Smithy Gang.
Mario and his allies Mallow, Bowser, Geno, and Princess Toadstool first encounter Count Down while navigating their way through Smithy's Factory during Super Mario RPG: Legend of the Seven Stars. Count Down is one of Smithy's commanders and attacks the Mario gang with his allies the Ding-a-lings. During battle it seems Count Down is nothing more than a puppet used by the Ding-A-Lings as Count Down attacks in a continuous pattern of attacks, with the attack depending on what numbers the hands on his clock face are on.
Ad blocker interference detected!
Wikia is a free-to-use site that makes money from advertising. We have a modified experience for viewers using ad blockers

Wikia is not accessible if you've made further modifications. Remove the custom ad blocker rule(s) and the page will load as expected.