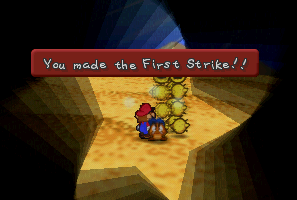 First Strike is a technique used in both Paper Mario and Paper Mario: The Thousand-Year Door. It is simply a move Mario or a Partner makes to start a battle. For example, if Mario uses his Hammer or his Jump attack on an enemy outside of a battle, he performs a First Strike, in which he actually hits an enemy with that move at the start of the battle. If he jumps on a spiky enemy, like in battle, he loses HP when he jumps on the enemy.
In Paper Mario, Goompa mentions First Strike to Mario during his time in Goomba Village.
In Paper Mario: The Thousand-Year Door, Mario can perform a First Strike by using an Action Command. It can defeat weak enemies easily.
Ad blocker interference detected!
Wikia is a free-to-use site that makes money from advertising. We have a modified experience for viewers using ad blockers

Wikia is not accessible if you've made further modifications. Remove the custom ad blocker rule(s) and the page will load as expected.