Princess Peach
Talk

0
1,089pages on
this wiki
Redirected from Peach
This page is about the

Character Project

. If you're a member, please add information to this page.
This is Peach in Paper Mario, with dot eyes and no color she looks like any ordinary game princess.

Añadida por

Jm14016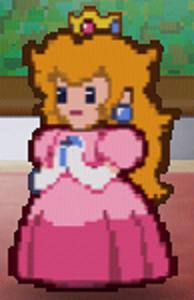 "
You stay out of it! I am a PRINCESS, and she has thrown mud at my dignity!"
-Princess Peach,
Super Paper Mario
In Super Mario RPG: Legend of the Seven Stars, Peach was called Toadstool and she was one of the party members along with Mario, Bowser, Mallow, and Geno. At the beginning of the game she is captured by Bowser and before Mario recuses her, she is launched into Booster's Tower. Mario must recuse her from Booster, who plans to marry her in Marrymore. She had many strong healing abilites in the game.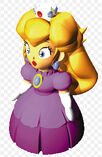 In Paper Mario, she is once again captured by Bowser. He used his castle to lift her's into space using the star rod. Mario is defeated since Bowser is invincible. In this game after each chapter you can play as her. She goes through the castle with the help of Twink the star kid. She finds out where each new star spirit is and Twink tells Mario where to go. She and Twink also battle Kammy Koopa in the final Battle. Her wishes give enough power to Twink to beat Kammy and for the star spirits to undo the new Bowser's Invincibility.
Paper Mario: The Thousand-Year Door
Edit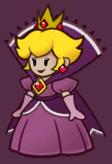 |
In Paper Mario: The Thousand-Year Door, she gets a magical treasure map to find a legendary treasure and she summons Mario to help. Though before he gets there she is this time captured by the X-Nauts because they need a host for the Shadow Queen. She is held in the X-Naut Fortress on the Moon. She teams up with TEC XX, the base's main computer (who falls in love with her along the way), to try to escape the base and find out their real intentions. Peach preforms various tasks to do so, doing things like dancing, answering quiz questions, and sneaking through the base wearing disguises such as an X-Naut uniform or even no clothes at all while being effected by an invisible potion. She is taken to the Shadow Palace after Grodus discovers TEC's double crossing. In the final battle, the Shadow Queen uses her body as a vessel to fight. When the Crystal Stars give Mario the power to hurt the Shadow Queen, Peach gives Mario the rest of her power to restore his power.
Super Paper Mario
Edit
In Super Paper Mario, she is captured by Count Bleck along with Luigi, Bowser and most of his army. Count Bleck forces a marriage between Bowser and Peach to create the Chaos Heart. Peach is the first to be secretly released by Dimentio. She actually gets to join Mario in this game as the second of 4 heroes. Her abilities are using her parasol to fly, using it as a shield for infinite defense, and normal jumping. Her final battle is against Mimi, who insults her about always being rescued by Mario and Luigi. Peach gets mad and demands that the Mario Bros let her do this battle alone. When Mario is fighting Count Bleck and he is still invincible, she along with Luigi and Bowser show up and the Pure Hearts Start to work. She can be used to face the last two battles along with Bowser and Mario and is the best choice for people who want to 'play safe.'
Paper Mario: Sticker Star
Edit
In Paper Mario: Sticker Star, she attends the Sticker Fest. After Bowser takes the Sticker Star, she is kidnapped offscreen as Mario is knocked out. Near the end, she is tied to something with Bowser Tape near the final battle. In the epilogue, she is seen attending the Sticker Fest Revival.