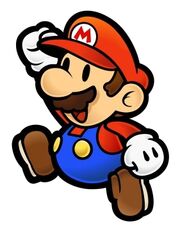 Hello, Finnfionnafan321!
Edit
Welcome to the Paper Mario Wiki, and thank you for making your first contribution! We're always glad to see new faces. Are you excited to help create a complete database for one of the greatest series of games of all time? Here are some ideas to get you started!
The Wiki Activity page will show you all of the edits recently made. It's a great place to get some ideas as to where you can help out!
Questions? Check out our New User's Guide! It has plenty of tips to get you used to the way our Wiki works. If you still have questions, leave a message here and Nebula, the Wiki's administrator, will get back to you.
We're really happy to have you here, and look forward to working with you!
Welcome!
Edit
Hello, and welcome to the Paper Mario Wiki! As for your question, the very first words in the article should be the same as the title. Those should be bold. For example, if the article was about Mario, the first sentence would be something like "Mario is the protagonist of the Paper Mario series." Other than that, they should not be bold. Thanks for your help, and if you have any more questions, just ask!
You said on the chat that you were going to get New Super Mario Bros. 2, Luigi's Mansion: Dark Moon, Paper Mario: Sticker Star, and ScribbleNauts Unlimited. Just reminding you about the release dates:
NSMB2: Aug. 19th
Paper Mario: SS & Luigi's Mansion: DM: This Holiday Season
ScribbleNauts Unlimited: TBA
Why do you feel bad about filing a request? That's the whole reason it's there...
I don't really promote anyone unless they file a request and succeed. That way the community has a say in it.
Hello Yamataak File:Katara Sprite Season 3.gif 17:08, July 23, 2012 (UTC)
Yeah, I think you're right. I never really thought to demote them before, but I guess we should, just to be safe. If they come back (which is unlikely after years of inactivity), then we can think about reinstating them as administrators, but for now, I'll remove their rights.
By the way, of course you can call me Nebula, that's why it's in my signature. :P
why did you ban me from regular show wiki i,m not underage rick ashley rickroll me (talk) 17:19, July 26, 2012 (UTC)