Whackas are creatures known for their valuable Whacka Bumps. However, to obtain one from it, one must hit it with a hammer, hurting it. The bumps aren't infinite. After some bashes, the Whacka disappears.
Whacka appears in Paper Mario, Paper Mario: The Thousand-Year Door, and Super Paper Mario. Whacka does not appear in Paper Mario: Sticker Star.
Whacka appears as a Catch Card in Super Paper Mario that you can earn from the card shop or by getting 300 shop points.
Whacka is found on Mt Rugged, and his bumps will restore lots of statistics, so save them for boss battles.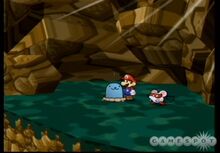 Ad blocker interference detected!
Wikia is a free-to-use site that makes money from advertising. We have a modified experience for viewers using ad blockers

Wikia is not accessible if you've made further modifications. Remove the custom ad blocker rule(s) and the page will load as expected.